How To Avoid Sudden Death (Advise For Men)
An advise has gone out to men to beware of killer commands that can lead to sudden death, especially in relation to women.
It should be noted that the most common drugs on sale now are manpower drugs for men, which is very dangerous for health and can lead to premature death.
" Please, beware of these killer commands. Do not, I REPEAT, do not obey them:
1. Harder! Harder!
2. Jack it man!
3. Hit it deep!
4. Faster! Faster!
5. Don't stop!
6. Shift my womb!
7. It's your own, scatter it!
Note that Women's work is always work in progress. You can't finish it, somebody did it to the point you met it. Don't try to be a Hero bro.
Avoid drug in order to please woman, life is more than that, put efforts to realising your dreams rather.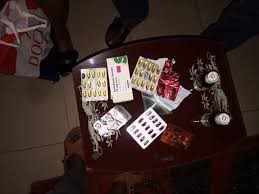 In the event of your sudden death,someone else will continue the work. A word is enough for the wise
Remember PESTLE damages faster than MORTAR."
All enhancement drugs have their negative effects on the body, do not kill yourself before your time. Be wise.